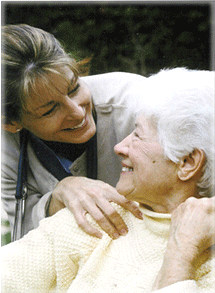 Prestige Home Health Services, Inc. can provide the following quality services in accordance with the plan of treatment approved by your physician.
SKILLED NURSING
Wound Assessment and Management (e.g. Wound VAC, Air Loss Mattress, etc)
Ostomy Care and Management
Enterostomal Feedings/ Care and Management Infusion Therapy
Psychiatric Nursing Care
Diabetic Care and Management
Oxygen Therapy
Venipunctures (Blood Draws)
PT/INR Monitoring (e.g. Line Draws, Coagucheck Device)
Vaccinations (e.g. Flu, Pneumonia)
Patient/Family Education and Training

SPEECH THERAPY
Speech/Articulation
Voice/Fluency
Hearing/Swallowing Treatment
Rehabilitation and Communication Techniques

PHYSICAL THERAPY
Therapeutic Exercises
Gait/Balance/Transfer Training
Functional Mobility Training
Pulmonary Physiotherapy
Prosthetic/Orthotic Training
Pain Management
Electrotherapy, TENS, Anodyne Therapy
Home Exercise Program
Safety Evaluation and Teaching


OCCUPATIONAL THERAPY
Functional Capacity Evaluation
ADL Re-Education and Training
Visual Skills Training
Cognitive Re-Training/Perceptual Motor Training
Sensory Treatment
Hand and Arm Rehabilitation (e.g. Fine Motor Training)
Orthotic/Splinting and Adaptive Equipments Training

HOME HEALTH AID SERVICES
Personal Care and ADL Training

MEDICAL SOCIAL WORKER SERCICES
Counselling/Long Term Planning
Community Resource Planning
Crisis Intervention
Transportation Assistance

ADDITIONAL SERVICES
DME Arrangements
Department of Aging Referals (e.g. Meals-on-wheels, Transportation, Homemakers)
DORS Referral
Home Visiting Physicians/Podiatry Referrals Medication Home Delivery Arrangements
Companions/Sitters Referrals
Health Screenings

Who is Eligible for Home Health Care?
Home-bound individuals in need of medical services as referred to by their physicians.

Who Pays for Home Health Care?
Home Health Care costs are covered by MEDICARE, COMERCIAL/WORK MAN'S COMP INSURANCES and Private Insurance for qualified individuals. Prestige Home Health Services, Inc., also accepts private pay individuals.

Communication with Sensory Impaired People
For any patient requiring TDD or TT devices as a method of communication, Prestige Home Health Services, Inc. will contact the Illinois Telecommunication Access Corporation (ITAC) to arrange for their services.

TTY: 800.841.1055 TTY SPANISH USERS: 800.501.0864

Other Services:
Arrange for a rental/purchase of any assisted devices needed
Coordinate Services such as finding homemaker or sitters
Arrange for home visiting physicians or podiatrist
For more information, please contact us at 773.693.0100 Fax: 773.693.0110
Office Hours:
9:00 am - 5:00 pm
Monday through Friday

Office: 773-693-0100
Fax: 773-693-0110
24 hour phone service is available!
Follow us at: